6K 2018-2021 480HP FORD MUSTANG BULLITT COYOTE 5.0 ENGINE 6MT MANUAL TRANS KIT Details
This GOOD USED 480 horsepower Generation 3, 2018-2020 Ford Mustang GT 5.0 COYOTE with 6 speed manual transmission drive train swap kit. Bullitt edition with GT350 manifold and cold air!
2019 model with 6,753 miles
This is a good running engine kit with no problems. GUARANTEED
At TPF we call this our "Master Kit".  This kit comes with everything that you need from the donor car to run this engine on a pallet!
We can set this up as a turn key run pallet for $850
Just add: Fluids, fuel and battery and fire it up!
Below is an example of a previous Gen 3 5.0 turn key run pallet!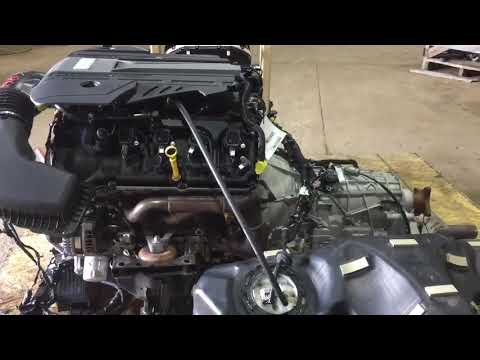 2018 mustang gen 3 run pallet 867 – YouTube
Video will open in a new window
Using the eBay App? Paste link into a browser window:
We have deleted PATS on this system, for you so you can start it right up without running into the anti theft system that you have to deal with when buying engine kits from other retailers!
This is a generation 3 Ford Mustang Bullitt 5.0 Coyote engine:
480 HP
420 LB-FT tq
The Master kit includes:
Coyote 5.0 engine with engine cover and coil covers
Exhaust manifolds and oxygen sensors
Alternator
AC compressor
Engine starter motor
All front engine pulleys and idlers and belts.
Coolant tank
Coolant lines
6 speed manual transmission
 trans shifter,
Airbox, mass air meter and intake hose
Engine injector and sensor wiring harness
Engine computer wiring harness
Dash wiring harness
Body wiring harness
Body control module (power distribution block for the interior)
Main Computer/PCM/ECU – PATS DELETED
Under hood Fuse box/power distribution box
Drive by wire gas pedal
Matching Speedo/Gauge cluster
keyless go, car key
Fuel tank, pumps and module
Driveshaft YOKE
radio bezel with push to start button
Optional parts:
Radio: call/message
Steering column:  $100
Brake pedal:  $50
Brake booster and master cylinder:  $75
ABS module $75
Cooling Fan: $100
Radiator: $100
Condenser and lines:  $125
Under the dash AC box: $100
Ask us about install packages!
1 piece driveshafts
Moroso oil pans
Coyote swap headers
Tubular front engine cradles
Custom fuel systems